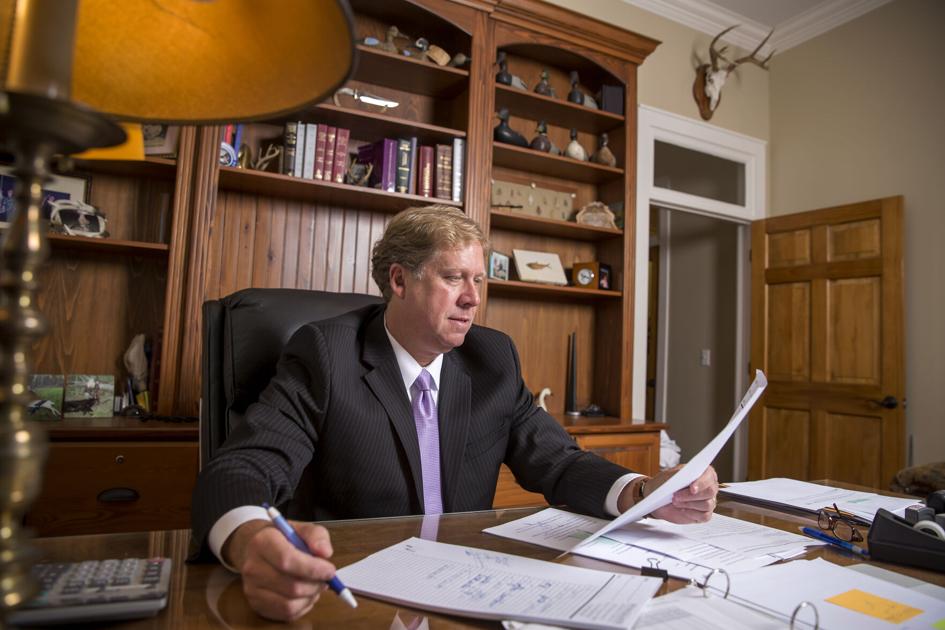 Lance and Nathalie Vitter say that there was nothing political about their decision to participate in a video blasting 22nd Judicial District Attorney Warren Montgomery's handling of a sex crime case in which their mentally disabled daughter was the victim.
"It wasn't a political thing. I didn't know who Vincent Wynne was," Nathalie Vitter said of Montgomery's opponent, who features their story on his campaign website.
Lance Vitter said he approached Wynne with the story of what happened to their daughter, who was 12 years old in 2016 when a 17-year-old neighbor was arrested for aggravated sexual battery in an incident that took place at his home during a game of hide-and-seek.
"It wouldn't have mattered if John Q. Citizen was running. I would have done the same thing to get our story out," said Lance Vitter, a 20-year veteran with the St. Tammany Parish Sheriff's Office.
The result is one of the more pointed attack pieces in an aggressive campaign Wynne has mounted to portray Montgomery, who is finishing his first term, as being soft on crime. 
In the video, Nathalie Vitter, looking steadily at the camera, blames Montgomery for a lack of progress in prosecuting the defendant, Richard Deidrich, for aggravated sexual battery. Deidrich, now 21, was arrested again in August and is in jail awaiting trial awaiting trial on a charge of second-degree rape, a new alleged offense that the Vitters say could have been avoided.
"Our kids are not protected, our families are not protected. That's what the DA is supposed to be doing is protecting the community, and he didn't do that for us," Nathalie Vitter says in the video spot.
But Montgomery, who ran as reformer in 2014 following the scandal-ridden Walter Reed regime, said his office has aggressively prosecuted the case.
Montgomery's office appealed a decision by state District Judge Reginald Badeaux to throw out Deidrich's confession based on his attorney's assertion that Deidrich, who has an IQ of 80, lacked the mental capacity to understand his right to remain silent.
The First Circuit Court of Appeal ruled in Montgomery's favor, but the defense took the matter to the state Supreme Court, which ruled in November of last year the confession couldn't be used.
Montgomery called the confession "an essential element in the successful prosecution of the case." But even without it, he said his office remains committed to prosecuting Deidrich.
And while the Vitters say Montgomery talked to them about reducing the charge to simple battery, Montgomery says he never suggested that the Vitters should agree to a plea deal and only discussed the possible outcomes of the case. The charge has never been downgraded, Montgomery said.
In another video on Wynne's Facebook page, the challenger takes aim at Montgomery's handling of Jameion Chatman, the gunman in a Christmas night shooting in Slidell's Olde Towne that left two people dead and six injured in 2013. Nick Noreia, a former prosecutor in District Attorney's Office, says on camera that when he was prosecuting the case, Chatman was looking two first-degree murder charges and six attempted first-degree murder charges and faced a possible death penalty or life in prison. 
In the video, Noreia said that after he was removed from the case Chatman's charges were reduced to a count of manslaughter, making him eligible for parole in 2023.
The video had 18,000 views by Wednesday, and Wynne said the spot backs his contention that Montgomery pleads out too many cases.
But court records show that Chatman pleaded guilty to two counts of manslaughter and five counts of attempted manslaughter and is serving a 40-year sentence. According to a document from the Department of Corrections, Chatman will not eligible for parole until 2047.
Montgomery said that Noriea was off the case because he asked to resign from the District Attorney's Office. Noriea did not respond to a question about his departure.
The decision to allow Chatman to plead to manslaughter was made after discussions with the victims' families, Montgomery said. It also followed a review of the evidence, said Collin Sims, the district attorney's chief of criminal prosecutions, including video taken at the scene that which shows Chatman began shooting after an armed man emerged from a bar, pointing the weapon, and a bottle hit the ground, making a loud sound.
Wynne said he doesn't view posting the videos as going negative. "These are all facts. … I'm presenting the facts, which is what I've done from Day One. I believe this is an office that has not done its job, as evidenced by the testimony of people who have come to me and asked (to be included.)"
He claims Montgomery is the one who's gone on the attack, and points to a website, now defunct, called Wynnelose.com, that, among other things, mocked Wynne's logo for resembling that of the Wynn Casino in Las Vegas. It offered a list of rebuttals to each of Wynne's criticisms of Montgomery, using snarky gambling references and hammering on the challenger's lack of felony trial experience.
Paula Falgout, Montgomery's campaign manager, said the website was intended to be a creative way to respond to what she called mischaracterizations of Montgomery's record. But the site was taken down and the same information was presented on another site, but in a less colorful way.
"We're going to continue to run a positive campaign," she said.
Political consultant Karen Carvin Shachat said that the decision to go negative often hinges on polling.
"If you're leading in the polls, you can stay positive and only answer direct attacks," said Shachat, who is not involved in either campaign. "If you're losing, the only way to turn it around is to knock votes off from the leading candidate. Attack ads or strong persuasive ads are a way to do that."
It's less clear what the large voter turnout will mean in the district attorney race.
Shachat said that the turnout in the presidential election could mean a lot of ballot drop-off, with people skipping the down ballot races, especially in areas with a lot of races, like New Orleans. But she said a district attorney election might be different. "It's an important, marquee race," she said. "It does affect people's lives."