Africa News of Friday, 4 December 2020
Source: face2faceafrica.com
2020-12-04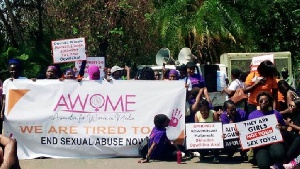 Members of the Association for Women in Media protest against rising incidents of sexual violence
Already struggling with a high rate of Gender-Based Violence (GBV) cases, Malawi is coming to terms with increased cases of defilement and rape compelling activists and politicians alike to call for stiffer penalties for perpetrators.
The latest case to have particularly incensed the nation is the defilement of a five-month-old baby by a 31-year-old in Malawi's old capital Zomba where residents want to take the law into their own hands to deal with suspects.
In a video that has gone viral, a cabinet minister speaking at a political rally is asking people to beat up rapists before they bring them to the police.
"It is very sad to see people defiling three or four-year-old girls. When you catch anyone, who has defiled a child beat
…
Read More